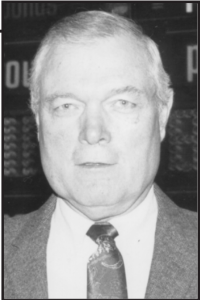 Jerry Hoover, Founding Director, D-One Basketball
Jerry Hoover enters his 27th year as executive director of D-One Basketball Camps.  Annual enrollment has grown from 80 campers to over 3500 during that period, making D-One Basketball one of the largest independent basketball organizations in the Midwest.  Sessions are now regularly held at multiple sites across Indiana and surrounding states.
"Big Hoov" is well known in basketball circles throughout Indiana.  Jerry walked on and played for the Purdue Boilermakers during the 1950s, playing on the freshman team for Naismith Hall of Fame Coach Ward "Piggy" Lambert and on the varsity for Indiana Basketball Hall of Fame Coach Ray Eddy.
After a stint in farming (he completed his bachelor's degree in Agricultural Economics), he returned to Purdue to earn his teaching certificate, setting his eye on a career as a teacher and basketball coach.  Jerry has now coached on the high school and college levels for more than 45 years, and he's still going strong as his most recent team completed the 2013-2014 regular season in the Final Four of the IHSAA state tournament.
Coach Hoover is best known for taking over struggling basketball programs, where he has a very strong track record of establishing feeder programs in the elementary and middle schools, emphasizing the teaching of basketball fundamentals that lead to sustained program success.  Hoover is the only coach in Indiana high school history to turn 8 losing programs into winning programs.  These include both boys and girls programs and the schools include:  Ben Davis, Lake Central, North Judson, Salem, and Logansport.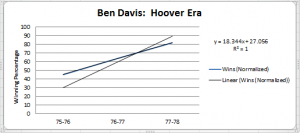 Jerry is currently the varsity girls' coach at Logansport High School, and his current program at Logansport is a great example of his leadership skills when it comes to turning around the basketball culture in a community.  At the time he took over, the Lady Berries had endured a number of consecutive losing seasons, struggling to field competitive teams.  In marked contrast, Coach Hoover's teams have won 85% of their games over the past 8 seasons.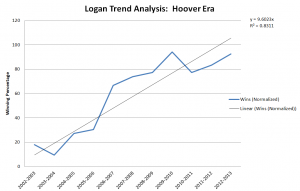 Jerry has also coached many outstanding high school players over the past 5 decades, as he has coached players who have collectively received over $6,000,000 in scholarships.  Jerry is the only varsity coach in Indiana high school basketball history to coach players who have been selected for both boys and girls Indiana All-Star teams.  Jasmine Penny, who was a 4 year starter for Jerry at Logansport, in 2013-2014 completed her career for DePaul, where she was among the nation's leaders for field goal percentage and the Most Outstanding Player (MOP) of the Big East Tournament. Whitney Jennings was named 2014 Miss Basketball and Parade All-American; she will play at the University of Iowa.  Randy Wittman, who was a 3 year starter for Jerry at Ben Davis, is the current head coach of the Washington Wizards.
Coach Hoover spent an additional 14 years as an assistant coach at Indiana State University and St. Joseph's college, helping to build basketball programs in the always competitive Missouri Valley Conference and Great Lakes Valley Conference.  The seeds were planted for D-One Basketball in these settings, as Jerry was instrumental in developing basketball camps in both of these college  environments.
Jerry is also a retired Colonel (Infantry) with 32 years of combined military service.  These experiences in organizational leadership are additional keystones of D-One Basketball "teaching fundamental skills with a strong dose of structure so young players have fun learning the game of basketball".